Rural tourism in La Coruña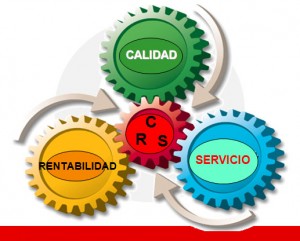 TOTAL QUALITY MANAGEMENT IN THE HOTEL TOURISM SECTOR.
VS: CUSTOMER ACCOMMODATION AND TOTAL QUALITY. (Rural tourism in La Coruña)
The tourism and particularly Spanish, y particularmente el Turismo Rural en Coruña, has been submitting to the jurisdiction of its market, basis, mainly, in price war.
Today, it is practically impossible to carry out, if you really, to survive in a market every day, demand has increased competition and customer-oriented quality. In short and as we have said before on our items, CWQC technology or technique called Total Quality, has also been imposed on this sector.
So, the relation price / quality / profitability, is essential to maintain if, really, to survive in the future in this sector. The balance that must exist between these three variables, It is essential to. Consequently the technique mentioned above is a medium that can not be waived in management of tourism and hospitality sector.
Therefore, entrepreneurs in the tourism and hospitality sector, should be the real promoters, as it should be in other productive and service sectors, of IMPLEMENT TOTAL QUALITY, in tourism enterprises, hospitality and hotel, especially, those major hotel chains are extended by the World, as is done with great success, long, hotel chains.
Of course, this implementation, main aims, customer service, direct contact with him, achieve full satisfaction.
Consequently, tourism business is that you must design an offer that can compete with cheaper destinations to set, thus, competitiveness, not price, but quality.
The transformation of the tourism sector, provided by the business, should be directed to the above as Total Quality.
Therefore, QUALITY is not copied, on the contrary, generated in each company, in each organization, thus covering, each hotel or resort, each company every tourist tourist, each tourism nation.
Under these approaches, in, clearly, there is a need for a clear and precise definition of tourism that can be given according to market demand exists, but perhaps, we are in a loop end. If there is no lack of demand will create supply, especially at the start sector. Therefore, necessary, general offer to create an initial demand, would later claim that the offer will generate.
The current tourism demand, tourism is not limited to rental, tourism and hospitality sector, must cover, also, demand for business travel, business, Convention, Congress and each of these specialties, requires a specific offer and a specific quality.
Ie, was stratified, different segments, demand in this sector and have very different profiles and each specific, because, each, client generates a type with different needs and requirements and of course, the basic tool for each of them is, certainly, TOTAL QUALITY.
CUSTOMER SERVICE, YOUR FULL SATISFACTION, is inherently objective, know, business strategy of TOTAL QUALITY.
This, requires EXCELLENCE, TOTAL QUALITY SERVICE IN THE SAME and competitiveness of the sector, and does not focus on prices, on the contrary, in the implementation of the Total Quality.
But, really, get this in the tourism and hospitality sector (Service Sector), is more difficult than in the industrial sector, because in the service sector, each client, is different, different, with its unique human and social characteristics, while the industrial sector, this does not happen.
So, a high quality service in this area, requires highly qualified personnel, niche. If the client feels, fully satisfied, tend to repeat their stay at the hotel or hotel establishment that has visited and create a loyalty to the same or chain. Otherwise, create a rejection and will not repeat the experience. The company has lost a customer.
Therefore, CUSTOMER SERVICE, business strategy that will ensure that "fidelity", above, by the same, perhaps it could be a marketing technique, but very specialized, the company will become competitive by keeping their customers and offer total quality and therefore, FULL SATISFACTION DELCLIENTE, why, the same, pay that price, because he finds balance between both factors.
But, we, clear. Not the receptionist, the waitress plant, room service etc.…, who may have direct responsibility for a bad feeling of comfort and customer satisfaction. Direct responsibility, The management has an irresponsible, carefree and relaxed it allows discipline and total dedication of all staff is at your service and immediately perceived by customers. Management, must have, always, While this, the client, want to feel, fully serviced, fully satisfied, comfortable and safe course, protected, covered for any contingency that may arise.
So, tourism and hotel demand is demanding:
HIGHEST LEVEL OF QUALITY IN ITS FACILITIES.
ECOLOGICAL ENVIRONMENT, Architectural, NATURAL AND NOT DEGRADED.
INTRINSIC SAFETY ENVIRONMENT AND TOURIST AREA.
The tourism entrepreneur, can not ignore these requirements and the competent authorities, This should ensure. Any investment, in this sector, should be directed and focused to achieve total quality and customer satisfaction.
The inescapable truth is that the client, day to day, mature in their demands and their expertise, causing the need for changes in business strategies that address this hardening of customers.
Without doubt, this requires that the internal organization of firms in the service sector, especially, the hotel, change, be updated and the customer assimilates, that insatiable, consuming and unfulfilled unless the customer is, because he always feels the need of something, because all is temporary satisfaction, has to be assumed by the internal organization and successfully faced.
We can say that there is nothing more frustrating for a customer to try to change or address the deficiencies in the internal organization, eg, a hotel, He sees that fall short of their demands and ability to meet their needs or have to deal with a manager who has not reacted appropriately to bypass the outdated rules and decide what to do to satisfy that customer.
Therefore, these standards is vital to speed, update them and make them consistent with the technical CWQC (TOTAL QUALITY) and improve internal processes of the organization to enter, full, within this strategic technical business.
If TOTAL QUALITY, We can define the ratio BUILDING SERVICES BUSINESS CUSTOMER / ABILITY TO SATISFY THE CUSTOMER NEEDS AND REQUIREMENTS, is very clear that dominates the ability to meet customer needs and requirements.
We conclude this paper makes the following findings:
THE ONLY CUSTOMER SERVICE RATE BENEFITS YOU RECEIVE AS A FUNCTION OF PRICE WILLING TO PAY.
THE COMPANY MUST LEARN TO IDENTIFY THE LEVEL OF CUSTOMER SATISFACTION.
THE COMPANY HAS TO ESTABLISH TECHNOLOGY IN YOUR ORGANIZATION "TOTAL QUALITY".
THE COMPANY HAS TO KNOW identify what level of unsatisfied customers HAVE AND ESTABLISH EFFECTIVE MEASURES TO MAINTAIN, CORRECTING THE RISE THIS CAUSES DISSATISFACTION.
Therefore, the business organization should be logical and functional face the competitive challenge that is constant and be able to adjust any deviation that separates this goal.
No mistake, is not competitive by having lower prices, it is competitive for quality and customer satisfaction, getting, thus, ensuring their loyalty and, therefore, continuity of the company because the market is competitive, for quality.
The maximum that we set, therefore, is:
TOTAL QUALITY ENSURES COMPETITIVENESS OF THE COMPANY AND CUSTOMER LOYALTY. NO POSSIBILITY OF COMPANY IF YOU HAVE CLIENTS.
But remember, always, above all:
QUALITY IS A NEW WAY OF LIFE and Ceferino Home, continue working to be a reference in the "Gite Costa da Morte".