Photo Marathon "Ramon Caamaño"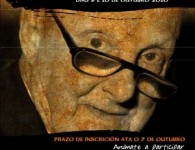 PRESENTATION:
This photo marathon is organized by the City of Muxía and Rural Tourism Association Muxía Natural.
With this marathon organization proposed especially to keep alive the memory of photographer Ramon Caamaño Muxi, and promotion of heritage Muxi, the tourist and cultural revitalization of the town hall and the promotion of photography as art and leisure activities.
PERFORMANCE DATES:
Days 9 and 10 October 2010
AWARDS:
1Second Prize: 1.600 € Diploma
2Second Prize: 800 €
3Second Prize: 400 €
5 runners which will consist of a weekend in a cottage of the Association of Rural Tourism Natural Muxía.